( Your are reading an Archived Version of the Love Ireland Newsletter – Join here to get it straight in your inbox )
Ireland, known for its awe-inspiring landscapes and deep cultural roots, has consistently enchanted travelers. In a recent poll conducted by the Love Ireland Facebook Group, the Ring of Kerry emerged as one of Ireland's premier tourist destinations.
Let's delve into what makes the Ring of Kerry so special and embark on a journey to uncover the myriad of captivating sights and experiences this remarkable region has to offer.
In today's email
Can you name the 32 Counties of Ireland? – Your Free Gift
Welcome to the Kingdom of Kerry
County Kerry | Things to See and Do

Aquadome – for a top waterpark experience
Travel the Slea Head Drive
Skellig Michael
Valentia Island
Visit Dingle
MacGillycuddy's Reeks
Ring of Kerry
Adventure Killarney Lakes and National Park – for the ultimate adventure
Love Ireland is a reader-supported publication. To receive new posts and support our work, consider becoming a free or paid subscriber.
---
The 32 Counties of Ireland Colouring Book for Children is the perfect gift and will give your child hours of pleasure whilst sharing titbits of knowledge from each county.
Every picture in this book is uniquely designed by Love Ireland to give the best experience and the best news of all?
---
Welcome to the Kingdom of Kerry
County Kerry is one of the most beautiful places in all of Ireland. From the majestic Skellig Michael to the bustling town of Dingle, there is something for everyone to enjoy.
For those looking for a thrill, there are plenty of adventure parks and activities to keep you entertained. And for those who want to take it easy, there are lovely drives and walks to be had.
No matter what your interests, you are sure to find something to love in County Kerry.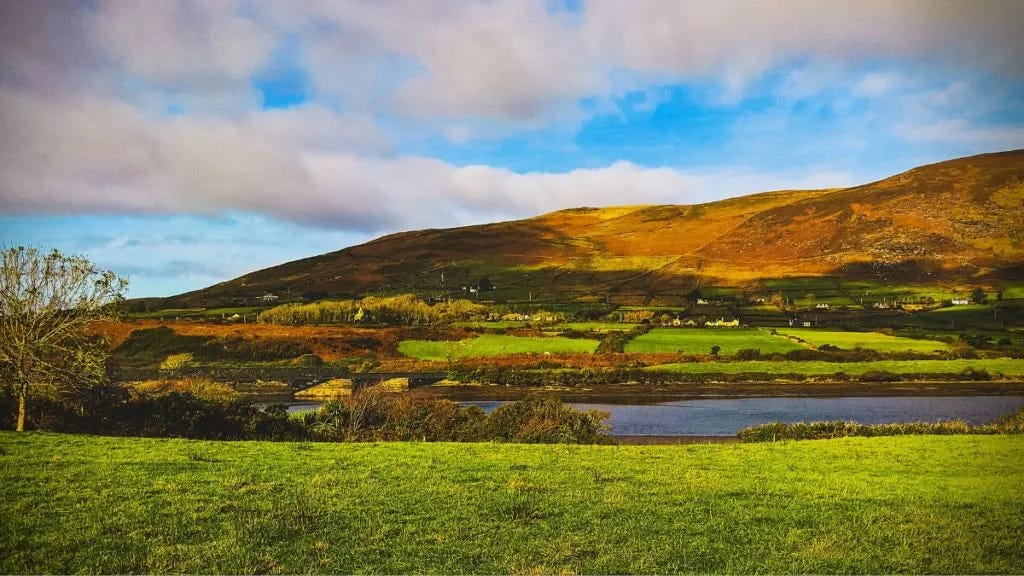 The information provided by Love to Visit LLC ('we', 'us', or 'our') on https://lovetovisitireland.com (the 'Site') is for general informational purposes only. All information on the Site is provided in good faith, however we make no representation or warranty of any kind, express or implied, regarding the accuracy, adequacy, validity, reliability, availability, or completeness of any information on the Site. UNDER NO CIRCUMSTANCE SHALL WE HAVE ANY LIABILITY TO YOU FOR ANY LOSS OR DAMAGE OF ANY KIND INCURRED AS A RESULT OF THE USE OF THE SITE OR RELIANCE ON ANY INFORMATION PROVIDED ON THE SITE. YOUR USE OF THE SITE AND YOUR RELIANCE ON ANY INFORMATION ON THE SITE IS SOLELY AT YOUR OWN RISK.
The Site
may contain (or you may be sent through the Site) links
to other websites or content belonging to or originating from third parties or links to websites and features in banners or other advertising. Such external links are not investigated, monitored, or checked for accuracy, adequacy, validity, reliability, availability, or completeness by us. WE DO NOT WARRANT, ENDORSE, GUARANTEE, OR ASSUME RESPONSIBILITY FOR THE ACCURACY OR RELIABILITY OF ANY INFORMATION OFFERED BY THIRD-PARTY WEBSITES LINKED THROUGH THE SITE OR ANY WEBSITE OR FEATURE LINKED IN ANY BANNER OR OTHER ADVERTISING. WE WILL NOT BE A PARTY TO OR IN ANY WAY BE RESPONSIBLE FOR MONITORING ANY TRANSACTION BETWEEN YOU AND THIRD-PARTY PROVIDERS OF PRODUCTS OR SERVICES.
AFFILIATES DISCLAIMER
The Site may contain links to affiliate websites, and we receive an affiliate commission for any purchases made by you on the affiliate website using such links. Our affiliates include the following:
We are a participant in the Amazon Services LLC Associates Program, an affiliate advertising program designed to provide a means for us to earn advertising fees by linking to Amazon.com and affiliated websites.
Sign Up Below And Get A Free Digital Copy
Of The Ultimate Ireland Travel Guide