---
Scroll to the bottom of the page for your Free PDF Download of The Ultimate Ireland Travel Guide
---
Welcome to the Ultimate Ireland Travel Guide, your comprehensive resource for exploring the enchanting Emerald Isle. Ireland is a country of captivating landscapes, rich history, vibrant culture and warm hospitality. From the rugged cliffs of the Wild Atlantic Way to the ancient castles and mystical ruins scattered across the countryside, Ireland offers a myriad of experiences for every traveler. Whether you're a nature lover seeking breathtaking scenery, a history enthusiast delving into ancient tales or a music and pub aficionado looking for lively traditional sessions, Ireland has something to offer you. Join us on this virtual journey as we delve into the best destinations, attractions, activities and insider tips to make your trip to Ireland truly unforgettable. Let's embark on an adventure through the rolling green hills, dramatic coastlines and vibrant cities of this extraordinary island nation.
The Ultimate Ireland Travel Guide
Contents of the Ireland Travel Guide
What you need to know before your visit to ireland
Travel documents
Money / Currency
Travel Insurance
Facts about Ireland
Irish customs
Planning your trip
When to visit
What to pack
Places to visit
Getting there
Airports in Ireland
Where to stay
Getting around in Ireland
Taxis Trains Buses Car Rental
Food and Drink
Useful links and information
---
The Ultimate Ireland Travel Guide – Travel documents
Passports
To enter the Republic of Ireland or Northern Ireland most people would need a passport but there are some exceptions: If you're a UK citizen, you can also use official photo identification. If you're an EU citizen, you can also use a national identity card. Most transportation carriers and airlines will require photo identification which could be a national identity card, a driver's licence or a passport.
A Passport would be required for all visitors not mentioned in the exceptions above. To be safe, check with your travel agent or airline before travelling.
Visas
Some visitors to Ireland might need a visa to enter but this will depend on your Citizenship. If you're a citizen of a European Economic Area (EEA) member state (27 countries of the European Union, together with Iceland, Norway and Liechtenstein) and many other countries including Great Britain, the USA, Australia, Canada and New Zealand, you don't need a visa to visit the Republic or Northern Ireland.
South African visitors can visit the Republic of Ireland without a visa, but need a UK visa in order to enter Northern Ireland. Ireland's Department of Foreign Affairs and Trade has a full list of countries whose citizens do NOT need a visa to visit Ireland.
You could also contact your local Irish embassy/consulate before you travel to find out your visa requirements.
Also be aware of all entry requirements into The Republic of Ireland and Northern Ireland.
Currency in Ireland
What money to use
The Republic of Ireland is part of the European Union and as such uses the single European currency known as the euro (€).
Euro notes come in denominations of €5, €10, €20, €50, €100, €200, and €500. The euro is divided into 100 cents; coins come in denominations of €2, €1, 50¢, 20¢, 10¢, 5¢, 2¢, and 1¢.
Northern Ireland is part of the United Kingdom, Northern Ireland uses the British pound sterling (£). Unfortunately the British pound is not accepted in the Republic of Ireland and conversely the British Pound is not accepted in Ireland. So, if you are travelling to both parts of Ireland it is important that you have some of both currencies.
It is well advisable to change some currency in your home country where you can go to your local bank and get good exchange rates, well in advance of your visit.
Getting cash when travelling is as easy as going to your local ATM (automated teller machine), these machines are plentiful in most cities and work with most banks. Check your withdrawal limits with your bank before you leave your country and make sure that you remember your PIN. You should also be aware of the fees that might be levied for cash withdrawals.
Another safe way to carry money is payment cards such as credit cards, debit cards, travel cards etc. You should be able to pay at most restaurants and shops with your card. Visa and MasterCard are the most widely accepted credit cards in Ireland.
American Express and Diners Club are accepted by most major hotels but are less commonly accepted elsewhere. Traveler's checks are not widely accepted in Ireland. You'll probably have to change the checks at a bank and pay a fee for the privilege, so this is not an option that we would recommend.
The Ultimate Ireland Travel Guide -Travel insurance
What does it cover and what are the costs
A packaged policy solution could cost from 4-8% of your trip cost and would include coverage for delays or cancellation of trips, medical costs when on your trip, baggage claims etc. You could also add additional coverage like pandemic coverage, medical evacuations and more.
The more options you add, the higher the cost of your policy. There is good news though, a lot of you might already have some coverage. If you are using a credit card for travel or have homeowners or renters insurance, travel insurance might be already included. Talk to your insurance company and credit card provider to find out what might already be covered.
We recommend purchasing travel insurance for an Ireland vacation package. If you ever purchase a vacation package or use a tour operator then you should definitely make sure that you have travel insure. An unexpected closure of any travel company leaves many travelers high and dry.
Where to buy travel insurance
Trip operators, airlines, cruise companies, even travel agents, offer travel insurance plans, however most of these policies have a mark-up, or the coverage isn't as good as a third-party insurer.
Compare policies before purchasing any insurance and make sure that you have read the contract including the fine print.
A Google search will give you many options including comparison sights and with a little bit of your own research you can get good insurance from a respectable company.
When to buy travel insurance
You can buy travel insurance any time before you depart on your trip but it is best to buy travel insurance just after securing the flights, accommodation or other details of your trip. The reason being that if something happens to the airline or tour company making them go out of business most travel insurance policies cover pre existing conditions.
The Ultimate Ireland Travel Guide – Interesting facts about Ireland
The Republic of Ireland is an island located in Western Europe, in the North Atlantic Ocean, west of Great Britain bordering Northern Ireland which is part of the United Kingdom.
Population: 4.8 million (est. 2019) Religions: Roman Catholic 87.4%, Church of Ireland 2.9%, other Christian 1.9%, other 2.1%, unspecified 1.5%, none 4.2% ( according to the 2006 census)
Landscape
Ireland's landscape is made up of lush greenery and rolling hills which are mostly forested, which is why it's called the Emerald Isle. Ireland also has some rugged mountains and dramatic cliffs which are a must visit to the tourist. The plants, trees and grass remain green because of the tremendous amount of rain that Ireland receives every year. Ireland is a snake-free island.
Phoenix Park in Dublin is the third largest walled city park in Europe. The Irish National Stud's Japanese Gardens, laid between 1906 and 1910 by the Japanese.
Government and economy
The beer industry in Ireland is big with Guinness, one of the most successful beer brands worldwide and Guinness was once the largest brewery in the world and remains the largest brewer of stout in the world.
American technology companies have been investing massively in Ireland and about 25% of Europe's computers are now made in Ireland. The European (or regional) headquarters and/or customer service operations of Google, Microsoft, Apple, IBM, Dell, Intel, Motorola, Oracle, Lotus, UBER and Boeing Computer Services are all located in Ireland.
Ireland is also currently the world's largest exporter of software. The Republic of Ireland has experienced a dramatic economic boom since the late 20th century and up until the 2009 financial crisis, Ireland had the 2nd highest GDP per capita in the EU (after Luxembourg), the 4th highest Human Development Index in the world, the 3rd highest economic freedom worldwide. Ireland had a great economic shock after the crisis of 2009 but the economy has recovered since then.
People and culture
One of the most famous Irish drinks is Guindness and the average Irish consumption of beer is 131.1 liters of beer per year.
Halloween Origins can be traced back to the Gaelic festival of Samhain, a harvest festival held on 31 October to mark the end of summer. Halloween is now one of the most well known festivals celebrated in the United States of America.
1.6 Million people claim to be able to speak Irish Gaelic, the ancestral language of the Irish people. The Irish love music and singing, proof of this is that Ireland has won the Eurovision Song Contest seven times. (in 1970, 1980, 1987, 1992, 1993, 1994 and 1996), more than any other country.
Did you know that Count Dracula originated in Ireland? The story of the world-famous vampire Count Dracula was written in 1897 by Bram Stoker, from Dublin.
History of humans
The earliest evidence of human life in Irelands is around 12,000 BC. A bear bone that was found in a cave had clear cut marks from stone tools and it was dated around this era.
Irish heritage
If any of your grandparents are Irish, you can claim Irish citizenship. If you can prove it, then you most definitely can and should apply for Irish citizenship.
Scientific and other achievements
In 1907, Irish-Italian inventor Guglielmo Marconi set up the world's first permanent transatlantic radio station in Derrigimlagh Bog near Clifden, in County Galway.This station operated until 1918.
The Royal Society for the Prevention of Cruelty to Animals (RSPCA) was founded in 1824 by Richard Martin, one of the first animal rights activists.
The first person to prove the Greenhouse effect was an Irish physicist, John Tyndall. He was also the first to discover why the sky is blue (the Tyndall effect)
Hook Lighthouse is located at Hook Head, in County Wexford, it is thought to be the oldest working lighthouses in Europe, or possibly in the world. The present structure was completed either in 1172 or in 1245, although the first lighthouse in that location dates back to the 5th century.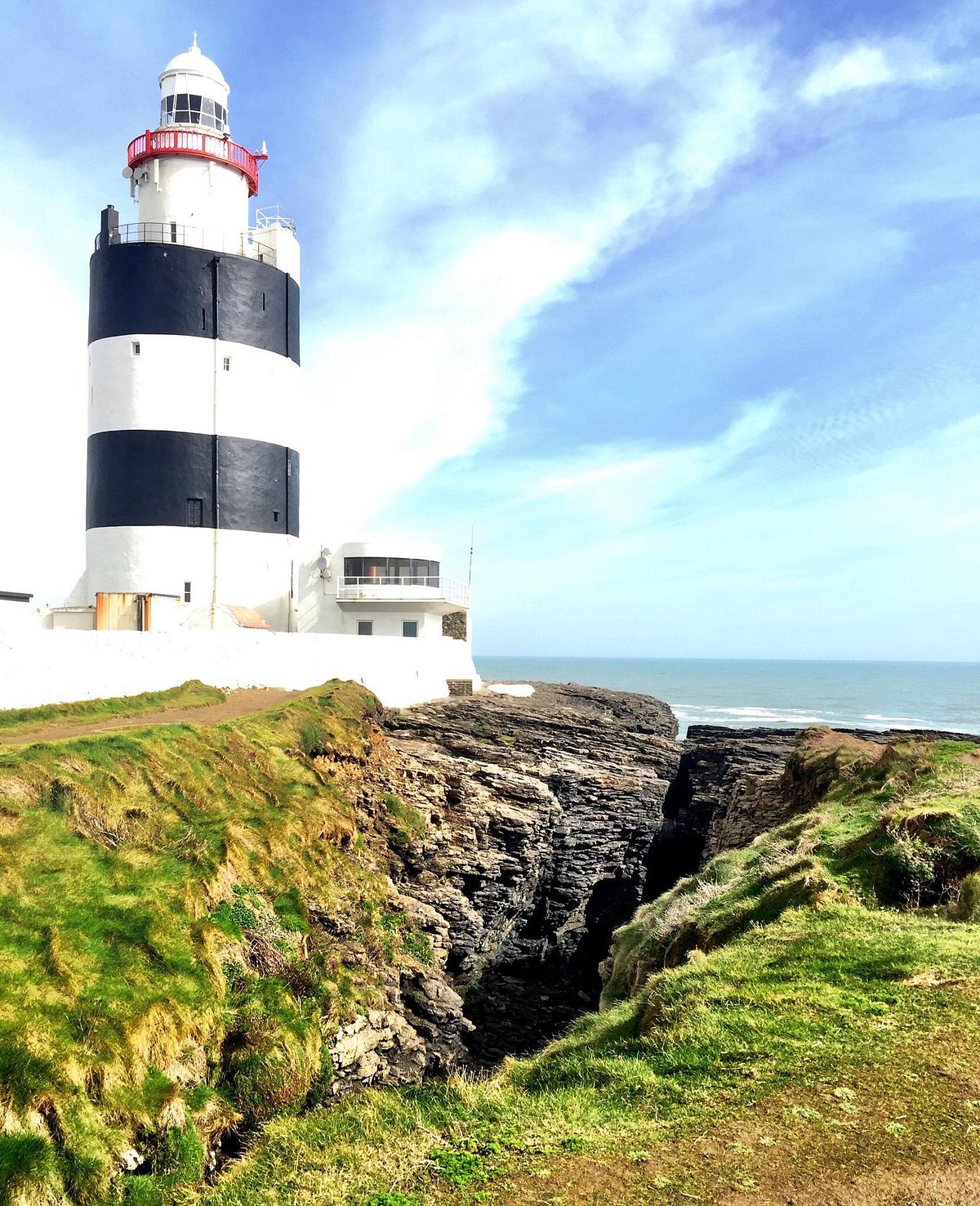 The first submarine was invented by an Irishman, John Philip Holland (1840-1914) in 1877. He later developed the first submarines used by the U.S. Navy (1900), the Royal Navy (1901), and the Japanese Imperial Navy (1904).
The Rotunda Hospital in Dublin, is the world's oldest continuously operating maternity hospital.
The main reason why potato was the staple food in Ireland from the early 17th century onwards is because most of the land in Ireland was not suitable for grain agriculture.
Even though Ireland is now a fervent Catholic country, it was the last Western European country to adopt Catholicism.
The Irish Houses of Parliament, erected in 1729 was the world's first purpose built, two-chamber parliament building. The building is now the headquarters of the Bank of Ireland.
The term 'boycott' comes from Captain Charles Boycott (1832-1897). In 1880, after refusing to reduce the rents of his employer's tenants, the Irish Land League decided to stop dealing with him. Everyone began to ostracise him to the point where even shops refused to serve him. The word entered the English language when it was used regularly by The Times of London.
Cork was once the largest exporter of butter in the whole world. Most of its exports went to the British Empire.
Oldest places in Ireland
Founded 900 years ago, Ireland's oldest pub is Sean's Bar in Athlone.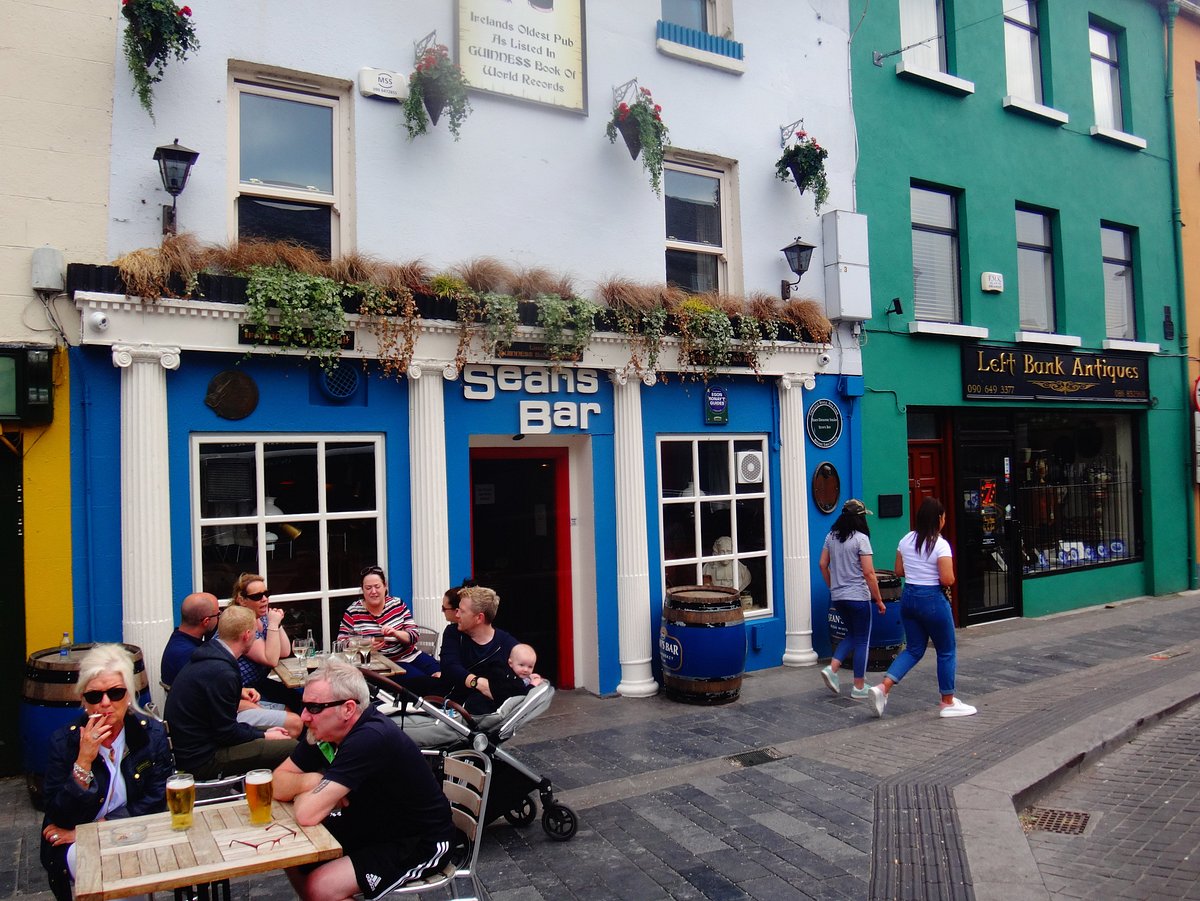 The oldest hotel in Ireland opened its doors in 1608. It is the Woodenbridge Hotel, County Wicklow.
Kilbrittain Castle, County Cork, is the oldest inhabited castle in Ireland. It is thought to have been built around 1035.
Trim Castle was the largest ever built, originally covering an area of 30,000 m².
Kilkea Castle, in County Kildare, is the oldest continuously inhabited castle in Ireland.
Shipping
The world's first recorded open yacht race was held in Dublin Bay in 1663 and in Cork, The Royal Cork Yacht Club was founded in 1720. It is the world's oldest yacht club.
Irish people around the world
It is estimated that over 80 million people of Irish descent live outside Ireland which is 14 times more than the population of Ireland. 3 million of these emigrants still hold Irish passports.
In the United States about 34 million Americans reported Irish ancestry in the 2000 US Census, which makes it the second largest ethnic group after the German Americans.
23 American Presidents including the current President, Joe Biden claim Irish ancestry.
The Ultimate Ireland Travel Guide – Irish customs
Public holidays in Ireland
Public holidays as well as religious days are an important part of Irish society. Holidays are a mixture of Celtic and Christian traditions and celebrations.
St. Brigid's day is celebrated on 1 -2 February and is traditionally seen as the beginning of spring. Activities on this day include feasting, spring cleaning and using rushes to make St. Brigid's crosses.
17 March, St. Patrick's Day is probably the most well known of all the Irish holidays and although it originally celebrated the coming of Christianity to Ireland, it is now a day to celebrate everything Irish all around the world. St. Patrick's day festivities include music, dancing and a traditional parade.
30 April -1 May is the traditional Gaelic May Day festival. To mark the beginning of summer, celebrations include decorating buildings and homes with flowers as well as bonfires.
16 June – Bloomsday. This holiday to commemorate the Irish writer James Joyce and his novel Ulysses was first celebrated in 1954. Litha (lee-tha) coincided with the summer solstice and celebrations are for the beginning of summer,
1 August marks the start of the harvest season and there will be numerous feats with crops, games and music.
31 October is Halloween and also the Celtic New Year.
25 December – Christmas Day as in most of the world.
Irish folklore, music, and dance
The literary tradition in Ireland is filled with myths, poetry, rhymes and sayings and traditional Irish music includes drinking songs, love songs, dancing songs, funny songs, and ballads, some of which are accompanied by instruments such as fiddles, harps, bagpipes, horns and drums.
Language in Ireland – Ireland Travel Guide
Irish (Gaelic or Irish Gaelic) originated in Ireland and Irish is now spoken natively by a small minority of the Irish population .
Irish is enshrined in the Irish constitution as the national and first official language of the Republic of Ireland and it is an official language of the European Union. The most spoken language in Ireland is English.
Sláinte (slahn-chae] means healthy and is used as a toast to your health. Wean (wayne): means child.
Slán abhaile [slahn-a-wal-ya): means 'safe home' ' and will be used to greet someone travelling hoime Dia dhuit (jee-uh ghwitch): means hello. Eejit (ee-juht): a friendly way of saying someone is acting foolish Wean (wayne): means child.
Irish society and culture
The Catholic church
Most people in the country are Roman Catholic and as recents as the early 1990s the church had a very strong voice in society as well as politics. Although the role of the church has diminished over the years, religion remains a powerful influence in the view of Irish society on family, marriage, and abortion.
The family unit
The Irish extended family unit is still today the dominant social structure, despite the impact of urbanisation. Irish that have moved away from home will often find that their ties to home are still very strong.
Irish humour
Having the craic' is part and partial of the Irish reputation of wit and humour which is often selfdeprecating or ironic.
Trading insults and teasing ("slagging") with people to whom they are close is almost a national pass-time and if you are teased, it is important to take it well and not see it as personal.
Etiquette in Ireland
According to the Ireland Travel guide the following etiquette is recommended in Ireland.
Meeting etiquette
A handshake and a hello is the basic greeting suitable to any occasion. Older children should be greeted with a handshake. Eye contact is important and creates mutual trust.
Gift giving etiquette
In general gifts are given on birthdays and Christmas and will be opened when received. Gifts do not have to be expensive but rather something thoughtful.
Do not give lilies as a flower gift as they are used at religious events and white flowers are reserved for funerals.
Etiquette when visiting a home
Always make sure that you arrive on time. A late arrival might spoil the food that has been prepared. Bring a gift to the host.
Chocolates or a bottle of wine would be appropriate. Table manners are continental with the fork in the left hand and the knife in the right hand while eating. Your hands should always be visible but it is considered bad manners to rest your elbows on the table.
The Ultimate Ireland Travel Guide – Planning your trip to Ireland
When to visit
The best time to visit Ireland is between March and May, or September to November. These times it is not as crowded as it is in summer, or as cold as it is in winter.
The summer months (June, July and August) is the most popular time of the year, it is also the warmest time of year, when Ireland's landscapes are at their most vibrant and the days are at their longest.
You can however visit all year round as Ireland has a mild temperate climate without extremes, although it can be very rainy at times.
What to pack
The Ireland travel guide will cover the most essential things you need to pack when travelling to Ireland:
The Necessities – When travelling, there are always those things that are absolutely necessary and Ireland is no exception.
Make sure these things never leave your side because these are the items that are most important and often hardest to replace.
Your Wallet, cash and bank cards.
Travel documents:
Passports Including travel insurance and visa documents if you need them.
Medicine : Daily, necessary, and allergy – carry extras & copies of prescriptions.
Chargers and converters – double check compatibility.
Toiletries – This will not be the end of the world if you forget something as most things can be bought anywhere in Ireland,
Travel size shampoo, conditioner, body soap
Gadgets and tech
Please note that if you are not from inside Europe, then you will likely need a power converter and adapter plugs for your phone charger, laptop etc.
Be sure you've got your cords and extras of the things you need to connect. It is also good to plan for your phone connectivity with your mobile service provider.
Tablet, phone, computer, and necessary chargers
Portable charger and cords Camera, lens, batteries(2), memory cards(2), and chargers
Be prepared for unpredictable weather
Ireland can have four seasons in a day and this creates a challenge for packing clothes.
The best thing to do is to plan to wear layers. In Ireland a good thing to remember is that there is the possibility of rain every day. The weather is totally unpredictable and it is a good idea to be prepared for all seasons at any time.
Pack these items:
Rain jacket (longer than usual) Sturdy, closed-toed shoes (consider hiking shoes over sneakers) One extra pair of shoes, Umbrella, Hat, scarf, gloves, Extra layers (wool is a good choice) Warm jacket with a hood Bathing suit
The Ultimate Ireland Travel Guide – Places to visit
Dublin
Dublin is not one of the largest cities in Europe but it certainly has everything to offer and we suggest that you need at least 3 days in Dublin.
You will be well advised to plan your trip ahead and we suggest that you book tickets to attractions online and buy the Dublin Pass for huge discounts on attractions and transport.
When booking accommodation, make sure it is close to the city centre so that you can get the most out of your visit to Dublin.
The must see attractions in Dublin
The Ireland Travel Guide covers the must see attractions in Dublin.
Dublin castle is located right in the heart of the city, and it is a great place to start experiencing Dublin's rich history. The castle offers guided tours for a small charge or you can just wander around on your own.
Guinness Storehouse is adjacent to Dublin Castle and is the perfect place to relax a bit after exploring the castle.
Dublin and Ireland are synonymous with Guinness and when you think of Dublin, you'll always think of the Guinness Storehouse. There is a self guided tour which ends in Gravity Bar at the top floor where you can get a Guinness and a 360 degree view of the city.
Jameson Whiskey
If you want to experience another iconic Irish drink why not learn more about Jameson and the art of Irish whiskey production
Temple Bar
Dublin nightlife is a must experience and to achieve that Temple Bar is the most popular spot in Dublin. Dublin is one of the places where you can enjoy a pint in one pub after the other until the early morning hours.
Trinity College
Trinity College is where you can find the Book of Kells in its Long Room Library and another attraction that you cannot afford to miss. The best of all is that a visit to Trinity College is free.
Dublin Zoo and National Botanic Gardens
Down to the west side of the city is Dublin Zoo. From the airport, a 20-minuta quick visit to the National Botanic Garden is a must on your itinerary.
One of the most popular destinations, this garden is also nearest to the airport with only a 15 minutes drive to the south. There are many other things you can do in Dublin and here is a link to some other popular attractions that you might want to consider.
Ireland's Ancient East
A great way to explore is to drive to Cork from Dublin and there are great experiences on the way.
Hore Abbey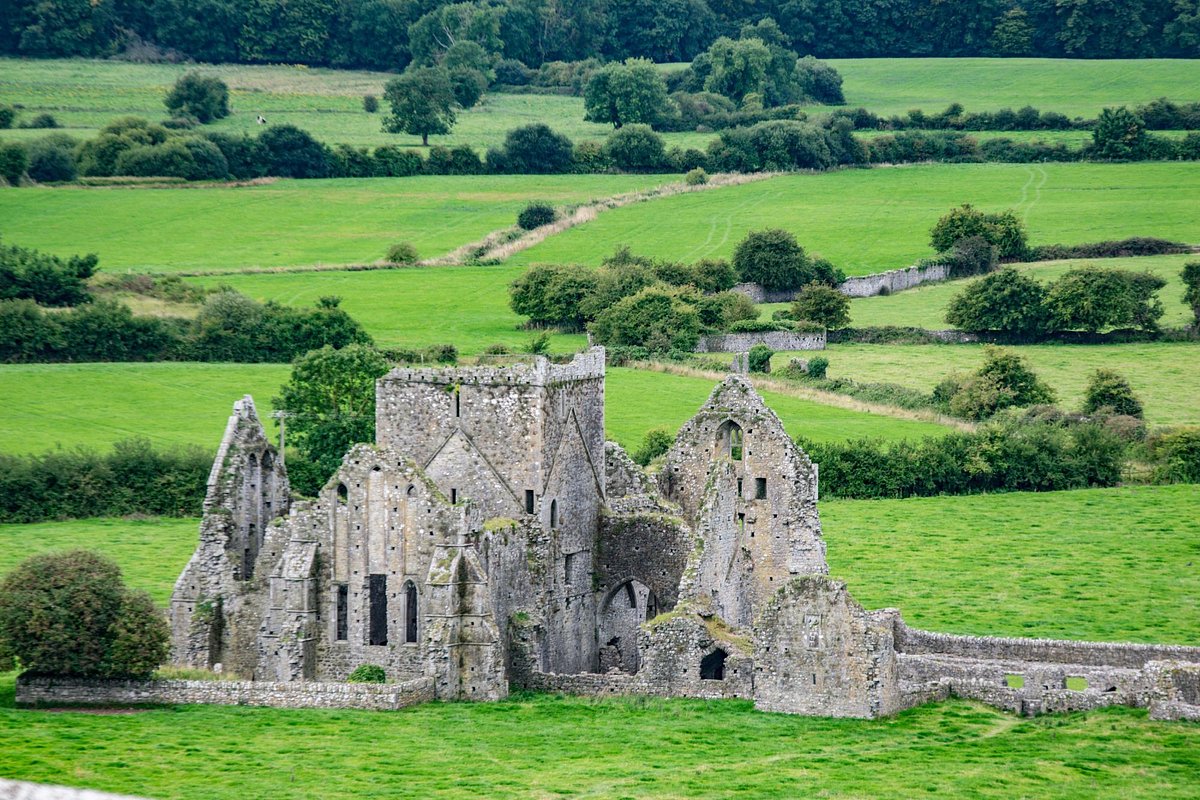 The ruins of Hore Abbey, an ancient Irish monastery stands alone in a field and is overshadowed by the Rock of Cashel. The Abbey is definitely worth a visit and should be on your list.
Rock of Cashel
Cashel is reputed to be the site of the conversion of the King of Munster by St. Patrick in the 5th century and The Rock of Cashel was the traditional seat of the kings of Munster for several hundred years prior to the Norman invasion, it is often mistaken as a castle.
Titanic Museum in Cobh
Cobh is known as the Titanic's last port of call in 1912 and the White Star line ticket office still exists in the harbour. There is also a graveyard in Cobh that contains mass graves of victims of the Titanic. This is not all that Cobh has to offer, check out this colorful city with its "Deck of Cards" houses.
Blarney Castle
Want to get the gift of the gab? Then be sure to give the "Blarney Stone" a kiss.
Blarney Castle and kissing the stone might just be one of your most exciting stops on your Irish trip.
Kerry Cliffs
The Cliffs are over 300m / 1,000 ft high. Here you can expect to see raw, wild, magnificent scenery, with the jagged outline of Skellig Michael on the horizon rarely far from view.
Killarney City
Filled with history, heritage, activities and world class hospitality, Killarney has an enthusiastic and welcoming population eager to have you visit. This town is a must visit on your Irish trip.
Valentia Island
Valentia island is located on the Skellig Coast in the Southern Peninsulas of the Wild Atlantic Way adjacent to the Ring of Kerry, and is still one of Ireland's best kept secrets.
The island boasts about being the birthplace of global telecommunications, geological uniqueness stretching back 350 million years, a mix of traditional and planned built architecture, and a place where you can embrace Irish culture of language music and sport. Surely worth a visit.
Torc Waterfall and the Killarney National Park
South and west of the town of Killarney in Co. Kerry is an expanse of rugged mountainous country which includes the highest mountain range in Ireland which rises to a height of over 1000 metres.
The famous lakes of Killarney are nestled at the foot of these mountains. The distinctive combination of mountains, lakes, woods and waterfalls under ever changing skies gives the 10,236 hectare (26,000 acres), Killarney National Park a special scenic beauty.
Torc Waterfall is approximately 7 kilometres from Killarney Town and approx 2.5 kilometres from the motor entrance to Muckross House with a short walk of approx 200 metres from the car park that brings you to the waterfall.
Places to visit within the park are Ross Castle and Muckross House.
The Dingle Peninsula
The Dingle Peninsula or Corca Dhuibhne, stretches 30 miles (48 kilometres) on the south-west coast on Ireland's Wild Atlantic Way. A range of mountains dominates the peninsula forming its spine.
It runs from Slieve Mish to Conor Pass and to Ireland's second highest peak, Mount Brandon. To the west you will find the Blasket Islands and the peninsula is dotted with lovely villages that will offer something unique to the visitor.
Star Wars Filming Location
Sybil Head in Ballyferriter on the Dingle Peninsula, where the Star Wars crew arrived to build a series of beehive huts identical to those found on Skellig Michael.
Sybil Head was once declared 'the most beautiful place on earth, ' by National Geographic magazine.
Dingle Town
Dingle has a population of 2,000 and a large hinterland; this is the hub and commercial centre for the Dingle Peninsula. Being an imaginative and creative place, Dingle has many charms and is known for quality restaurants, interesting shops and galleries with a vibrant street life.
The Cliffs of Moher
"Their natural beauty has inspired artists, musicians, and poets for generations, as well as absorbing scientists and geologists, drawn by the unique landscape in which they sit."
The Ultimate Ireland Travel Guide – Getting to Ireland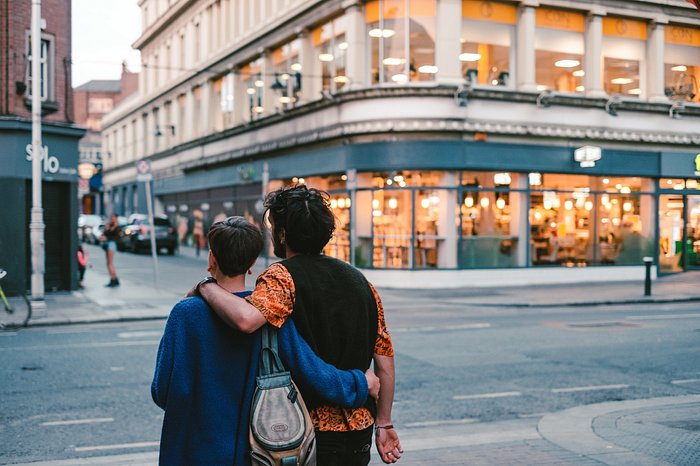 Airports in Ireland
Dublin Airport
Dublin International Airport is around 12 kilometers from Dublin city center and it will be your first stop when visiting Dublin.
From Dublin airport to the city, there are 5 options for airport transfer to the city center or to your Dublin accommodation.
Dublin Airport To City Transfer Options
Airlink Express
Public Coach
Aircoach Express
Public Coach
Dublin Bus
Private Transfers
Taxi
Shannon Airport transfer options to major cities in Ireland
Shannon Airport is the third busiest airport in Ireland after Dublin Airport and Cork Airport. In 2017, it served over 1.7 million passengers alone.
Major Airlines that serve Shannon Airport
Currently, below are the major airlines that serve Shannon:
Air Lingus General: +353 (0)61 715400 Reservations: 0818 365000 Lost Baggage: +353 (0)61 715325 – 0800hrs to 1500hrs daily Website: www.aerlingus.com
Air Canada General: 1-800-709900 Lost Baggage: Information Website: www.aircanada.com
American Airlines Reservations:1890 925 065 Lost Baggage:+353 (0)61712474 Website: www.americanairlines.ie
Delta General: +353 (0)61 471200 Reservations: 0818 904 872 Lost Baggage: +353 (0)61 712474 Website: www.delta.com
Lufthansa Lost Baggage: +353 (0)61 471851 Website: www.lufthansa.com
Norwegian Airline Lost Baggage: +353 (0)61 471851 Website: www.norwegian.com/ie
Ryan Air Lost Baggage: +353 (0)61 471851 Website: www.ryanair.com
United Airlines Reservations: 1890 925252 Lost Baggage: +353 (0)61712474 Website: www.united.com
The Ultimate Ireland Travel Guide – How to find accommodation
Ireland is an ever popular tourist destination. 11.2 Million people visited Ireland in 2019, according to Tourism Ireland.
Like any part of planning a trip, when it comes to accommodation, doing your research is the key to success. There is a number of booking sites where you start looking for accommodation
In our view, Tripadvisor is one of the best resources for finding places to stay in Ireland.
As we have said, Ireland is a very popular tourist destination and it is a good idea to book as much of your accommodation as you can in advance, especially during peak seasons, If you're travelling from outside the EU, from the US for example, you will need to provide an address or evidence of a reservation at Immigration when you arrive at the airport anyway, so booking ahead makes sense.
Hotels
Here are some Hotel recommendations from the Ireland Travel Guide. Staying in a hotel will usually be the most expensive option, especially in main cities.
Five Star hotels
5 Star hotels in Ireland are plentiful, especially in Dublin where you will find a few iconic selections. The Shelbourne Hotel boasts past guests including Charlie Chaplin, Grace Kelly (who had a suite named after her) and President John F. Kennedy.
The Merrion Hotel caters well for lovers of fine food and is home to Restaurant Patrick Guilbaud, which holds not one, but two Michelin stars.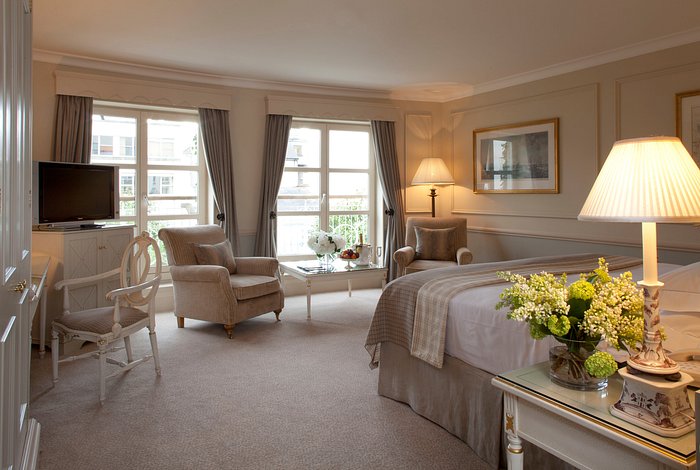 There are many other five star hotels all over Ireland
Mid-range and budget hotels
Hotel prices in Ireland vary widely depending on season and location. For the best deals check out Tripadvisor
Hostels
Hostels traditionally cater to the younger traveller who is either broke or a single backpacker but some can provide value even for couples with kids, so it is worth checking them out.
Self-catering
When you are travelling with children you might want to cook your own meals and then this could be a great option.
There are many options such as a traditional cottage, a seaside holiday home or a convenient townhouse.
You can find self-catering accommodation on the usual booking sites mentioned above as well as these Irish sites:
AirBNB, bed and breakfast
AirBnB is now an option everywhere and is definitely worth consideration. If you're someone who loves to soak up local tradition and culture, there's no better place to stay than with an Irish family in a bed and breakfast.
With hundreds of quality B&Bs right across the country, you have the opportunity to meet the real people of Ireland, enjoy a home cooked breakfast and get great value for money.
According to B&B Ireland, the average price per person of a B&B is €32-38 per person sharing, but of course, it does depend on the season and location
Historic houses and castles
One of the great attractions of Ireland is its rich history and architecture and you can even sleep in some of these stunning pieces of history.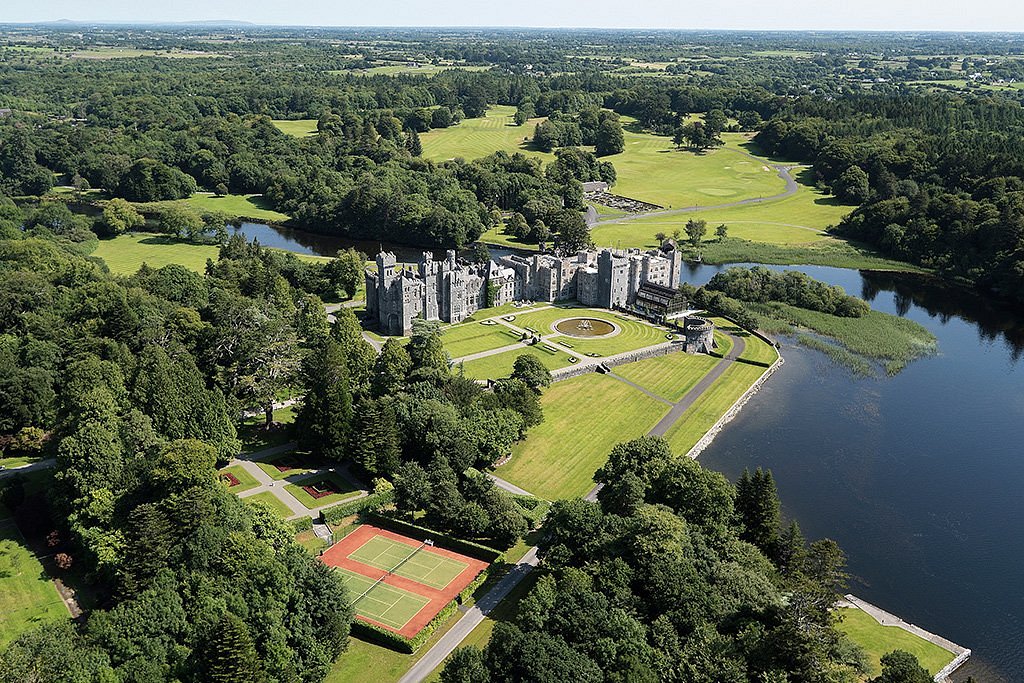 Abbeyglen Castle, Galway Ashford Castle, Mayo Ballygally Castle, Antrim Ballynahinch Castle, Galway Ballyseede Castle, Kerry Cabra Castle, Castle Castle Leslie, Monaghan Clontarf Castle, Dublin Dromoland Castle, Clare Dunboyne Castle, Meath Fitzpatrick Castle, Dublin Kilkea Castle, Kildare Kilronan Castle, Roscommon Kinnitty Castle, Offaly Lough Eske Castle, Donegal Lough Rynn Castle, Leitrim The Black Castle, Tipperary Waterford Castle, Waterford Wilton Castle,
49 of the best Castles in Ireland
Camping
Camping is always an option despite the unpredictable weather Pitchup.com provides a very helpful list of top campsites in Ireland. Prices in Ireland start at €12.91 per night for 2 people. Looking for something with more style?
You can find glamping sites in Ireland on Tripadvisor
Getting around in Ireland
Driving in Ireland is a pleasure thanks to the introduction of new highways that connect most major cities of the Emerald Isle. In addition to driving, visitors to Ireland can also get around efficiently via trains, buses and even planes.
Driving in Ireland
Driving in Ireland takes a certain amount of skill and as on most European highways, the fast lane — which is always on the right — is used solely for passing slower traffic. Be aware that speed limits vary widely on highways; it may be 120 kilometers per hour in parts and then suddenly change to 80 kilometers per hour so always keep an eye out for the number inside the round signage on the side of the highway.
Remember to check for toll roads when planning your trip. Toll charges, which are based on the size of your vehicle, are listed at TII.ie, the website of Transport Infrastructure Ireland. The booths typically feature a human toll collector, a basket for exact change and an e-toll option, so plan ahead and decide which one you'll be using.
Driving in Dublin can be difficult as it is the most congested city in Ireland, and rush hour traffic in and out of the city center is challenging, even to the most seasoned driver. Most city streets feature roundabouts, oneways, and road signs and signals that might be confusing for foreign drivers.
Be aware that country roads can be challenging as well, conditions might be poor and obstacles such as farm vehicles or sheep crossings need to be watched out for. The best advice? You are on holiday, so drive with caution and take your time.
Renting a Car
Car rental in Ireland is a fairly standard procedure. Most rental cars are manual/stick shift, though rental agencies typically have a small number of automatics available. It's best to book your reservation early to ensure you get the type of car you want.
Car sizes range from small, economic models to SUVs and luxury cars. Holders of licenses from the U.S., Canada, Australia and E.U. Member states are not required to have an International Driving Permit but need to have their license on them.
Those that must have one should have both their international driver's license and original domestic license with them.
Travelling by train
Unfortunately not all areas of Ireland can be reached by rail, so you cannot rely on rail transport alone for your trip, However the trains serve most major hubs and are a great way to see the country, particularly for longer-haul journeys, and buses can provide transport from major train stations to smaller areas if you'd rather not rent a car in between train rides.
Irish Rail offers service to all major cities in Ireland, and tickets can be purchased online or at stations.
Travelling by bus
Traveling by bus is probably the most convenient and budget-friendly method of transportation around Ireland. For long-haul travel, bus travel is very affordable and tickets can be purchased in advance through BusEireann.ie.
Bus connections are available between all major cities. Buses are reliable and comfortable, and most offer free Wi-Fi.
Airlink Express to Dublin City Centre
Airlink Express is a public coach service that provides seamless transfers from Dublin airport to various locations within the city. The journey time lasts up to 40 minutes depending on which area of Dublin you will go.
Aircoach Express to Dublin City Centre
Aircoach offers bus transport from Dublin Airport to the city center, South Dublin and other major cities in Ireland on a 24-hour service. Its city center service stops at most of the major hotels in Dublin City at key locations across Dublin. 7
Taxi to Dublin City Centre
Airlink Express is a public coach service that provides seamless transfers from Dublin airport to various locations within the city. The journey time lasts up to 40 minutes depending on which area of Dublin you will go.
The Ultimate Ireland Travel Guide Food and Drink
When you think of Irish cuisine, think of simple, hearty dishes with age-old family recipes passed down through generations. Ireland is not just Guinness and potatoes and the following is a list of traditional Irish dishes.
Irish Stew
One of the most controversial dishes in Ireland which is often made from lamb, mutton or beef and vegetables. Purists claim that the traditional dish should only include mutton, potatoes, onions and water.
In modern times recipes typically use lamb or beef to replace the mutton and also include carrots, red wine and wait for it… Guinness! Irish stew remains the ultimate comfort food and is perfect for any rainy day.
Irish Soda Bread
Soda bread uses only four basic ingredients: bicarbonate of soda, buttermilk, flour and salt. With this combination a simple, moist bread is created. Soda bread is enjoyed with soups or stews. Some people add their own twist, adding spices, seeds or fruit.
Boxty
Potatoes are famous as an Irish staple food and despite the tragedy of the great potato famine of the 19th century, the potato is prominent in many traditional recipes. The boxty is a traditional potato pancake consisting of mashed potato, grated raw potato, flour, buttermilk and salt.
Boxty is often enjoyed as a breakfast condiment to eggs and bacon.
Colcannon
Considered the holy grail of mashed potatoes, this recipe consists of mashed potatoes, kale, green onions, milk or cream and lots of butter. This is usually a side-dish served with a main.
Dublin Coddle
Coddle or 'Dublin Coddle' is a one-pot dish that uses leftovers at the end of the week. What goes into the pot usually depends on what is available and could include sliced pork sausages, bacon, potatoes, onions, etc. mixed together to make yet another comfort stew.
Barmbrack
Perfect with tea, Barmbrack is a sweet Irish bread made with dried fruit (usually sultanas and raisins). Barmbrack features in various Irish traditions and the most popular of these would be charms that would be mixed into the dough.
Irish Fish Stew/chowder
An Irish chowder generally uses a mix of fresh and smoked fish, with the fresh fish often a combination of white fish and salmon. Bacon is an ingredient in most of these stews with mussels sometimes added but not always.
Guinness
Guinness, the national drink of Ireland, is wellloved across the country and world over.
Irish Whiskey
Irish whiskeys are typically distilled using unmalted barley and triple distilled so generally produce a very smooth finish.
Irish Coffee
Irish coffee is made in a warm glass and uses brown sugar, Irish whiskey, coffee, and fresh layered cream. Another drink from Ireland that has become world famous.
Laughter is brightest where food is best – Irish Proverb
Dublin Travel Guide
The Ultimate Guide for your Visit to Dublin
About Dublin
Dublin (Irish: Baile Átha Cliath) is the capital and largest city of Ireland, as such Dublin is the gateway to the Emerald Isle. Situated on a bay on the east coast, at the mouth of the River Liffey, it lies within the province of Leinster. It is bordered on the south by the Dublin Mountains, a part of the Wicklow Mountains range.
It has an urban area population of 1,173,179 The population of the Greater Dublin Area was 1,904,806 per the 2016 census.
Dublin is a vibrant city and warrants a visit of at least 3 days and you could even stay for 5 or more. In this guide we will explore some of the best things that Dublin has to offer for the tourist.
When is the best time to go to Dublin?
In winter, the weather in Dublin is not ideal with average temperature ranging between 30 and 40 degrees Fahrenheit but there are a number of festivals offered in the city that make up for the chilly weather.
The New Year's festival, the first 3 days of each year is something to attend, then Dublin has an international film festival in February and the party that everyone should attend at least once in Ireland, St. Patrick's day in March. Festivals continue through the year and the city gets quite busy in summer with prices rising as demand increases.
The best time to visit Dublin is June through August when temperatures are warmer and the streets are filled with festivals.
SPRING EVENTS In Spring the weather starts to warm but you will still need a good sweater to keep warm in the evenings, Visitors this time of year are few with one exception: St. Patrick's Day. If you plan to travel over the holiday, make sure to book well in advance.
St. Patrick's Day Festival (March) International Literature Festival Dublin (May)
SUMMER EVENTS
Bloomsday (June) Taste of Dublin (June) Dublin LGBTQ Pride (June) Dublin Irish Festival (July-August) Electric Picnic Festival (August) Big Grill BBQ & Craft Beer Festival (August)
AUTUMN EVENTS
Temperatures are mild in Autumn but can get chilly , so bring those warm clothes and a good raincoat.
Dublin Fringe Festival (September) Dublin City Liffey Swim (September) Dublin Festival of History (September-October) Dublin Theatre Festival (September-October) Oktoberfest Dublin (September-October) Dublin Book Festival (November)
WINTER EVENTS
Winter is the perfect time to enjoy a cozy Irish pub. Nothing beats the atmosphere in an Irish pub on a cold night.
New Year's Festival (December-January) Temple Bar TradFest (January) Dublin International Film Festival (FebruaryMarch)
Things to know
Language; The main language is English Electricity: Standard voltage in Ireland is 230v, which is within the 110-240v range most U.S. electronics use. However, you'll still need an adapter as the country uses a large "G" electrical outlet with three square prongs.
Currency: The official currency of the Republic of Ireland is the Euro, so you will need to exchange currency before your trip or at a local currency exchange. Most international bank cards will work everywhere in Dublin.
Travel Insurance. Make sure that you have the relevant travel insurance before travelling, check with your local travel agent what you will need. Note: Pack an umbrella!
Getting to Dublin
Arriving by Plane
Most visitors arriving in Dublin will be arriving via plane, some visitors driving from the United Kingdom might be arriving via ferry. Dublin Airport is located just 10km (6 miles) from Dublin City Centre and is accessible by both the M50 and M1 motorways. Dublin Airport has two terminals and visitors arriving from the USA and Canada will be arriving at Terminal Two.
TERMINAL ONE This terminal handles short-haul flights served by Ryanair, British Airways, Germanwings, Iberia, Lufthansa, Norwegian, SAS and Air France.
TERMINAL TWO Most long flights will be landing at terminal two and will be served by American Airlines, US Airways, Delta, Air Canada and Aer Lingus. Recent additions to Terminal 2's roster include United Airlines, Etihad and Emirates
How to get to the City from the Airport
AIRPORT SHUTTLE BUS – There are bus services available to and from both terminals, provided by Aircoach, Airlink, Dublin Bus and GoBus. Prices to get to the city would be around €15-€20
TAXIS .A number of taxis and ride services are available. To travel to the city centre by taxi will cost between €30-€40.
TRAINS Currently, there is no direct railway link between Dublin
Arriving by Ferry
Ferries to Dublin are operated from Liverpool, Holyhead in Wales and also from Douglas on the Isle of Man
Ferry Companies
Irish Ferries https://www.irishferries.com/
P&O Ferries https://www.poferries.com/en/routes/liverpoolto-dublin
Seatruck Ferries https://www.seatruckferries.com/
GETTING TO THE CITY CENTRE
Dublin Port is connected with Dublin City Centre via Dublin Bus (the number 53 bus). Bus fares are payable with coins (Euro), smart cards or pre-paid tickets. There is a plentiful number of taxis outside Dublin Port at most times of the day, expect to pay in the region of €9 to €12 for a taxi to the city centre.
The Luas Red Line tram operates 7 days a week and is located on East Wall Road, opposite the entrance to Dublin Port, and a one-way ticket to the city centre costs €2.
How to get around in Dublin
There are many ways to get around Dublin. Walking in the city is a great way to explore and there are bicycles for rent for those wanting to cycle this beautiful city.
Trains The DART is the city's commuter train that connects Dublin to surrounding cities, towns and the waterfront.
More information: https://www.irishrail.ie/enie/about-us/iarnrod-eireann-services/dartcommuter
Dublin also has a light rail system, the Luas, with two lines that service 67 stations around the city. The Green line runs north to south, and the red line east to west.
Tickets can be purchased at any of the stops along the lines.
More information: https://www.luas.ie/
Buses The Dublin Bus has 120 routes and 18 night routes that connect the entire city. http://www.dublinbus.ie/
Leap Card:
You should consider this prepaid card that will save you 24% on travel and can be purchased at a number of locations around the city. Taxis Taxis and other ride services are available throughout Dublin.
Places to stay
Visitors to Ireland should always have at least their first night's room booked, as you will be required to give an address at Immigration when you arrive at the airport. There are many options for accommodation in Dublin that will suit every taste.
Dublin has wonderful hotels and guest houses but the best strategy is to do some research online and to book in advance. We suggest an online platform like Tripadvisor for this purpose.
Things to see and do
Visit some of Dublin's unique and fascinating attractions that are key to the character of Dublin city, but also to its people and the people of Ireland.
Guinness Storehouse
Guinness Storehouse is a tourist attraction at St. James's Gate Brewery in Dublin, Ireland.Since opening in 2000, it has received over twenty million visitors. The Storehouse covers seven floors surrounding a glass atrium shaped in the form of a pint of Guinness.
The ground floor introduces the beer's four ingredients (water, barley, hops and yeast), and the brewery's founder, Arthur Guinness.
Other floors feature the history of Guinness advertising and include an interactive exhibit on responsible drinking. The seventh floor houses the Gravity Bar with views of Dublin and where visitors may drink a pint of Guinness included in the price of admission.
More information about the Guinness Storehouse: https://www.guinness-storehouse.com/en/home
Trinity College and The Book of Kells
Trinity College was founded in 1592 by Queen Elizabeth I, and among its alumni are such renowned writers as Jonathan Swift and Oscar Wilde.
The college is visited by tourists from all over the world and the real attraction is the Old Library where you will find an amazing collection of literature. Of all the books at the Old Library, the most famous and priceless one is the "Book of Kells. "
This illustrated version of the gospels was created around A.D. 800 by Celtic monks and is a must see when you get to Dublin.
More information: https://www.tcd.ie/visitors/
The Old Jameson Distellery
The Jameson Whiskey experience in Dublin offers an unparalleled journey into the rich heritage and craftsmanship of Irish whiskey.
Nestled in the heart of the city, the experience begins with a warm welcome and a captivating introduction to the history of Jameson, tracing back to its establishment in 1780. As visitors venture through the carefully restored distillery, they are immersed in the sights, sounds and aromas of whiskey production, witnessing the traditional processes that have been passed down through generations.
Expert guides share their knowledge, enlightening guests about the art of triple distillation and the significance of oak casks in maturing the smooth and distinctive Jameson flavor. The experience reaches its climax with a tantalizing tasting session, allowing visitors to savor the nuances of various Jameson expressions and even participate in a blending workshop to create their own unique whiskey.
With its blend of captivating history, immersive atmosphere and exceptional whiskey, the Jameson Whiskey experience in Dublin is an unforgettable journey for whiskey enthusiasts and curious souls alike.
The Glasnevin Cemetery
The Glasnevin Cemetery holds a significant place in the history and culture of Dublin, Ireland. Located just a short distance from the city center, this expansive burial ground has been a final resting place for countless individuals since its establishment in 1832.
As one steps into its hallowed grounds, a sense of tranquility and solemnity permeates the air. The cemetery's beautifully landscaped pathways lead visitors through a tapestry of gravestones, mausoleums and memorials, each telling a unique story of lives lived and lost.
The final resting places of prominent figures from Irish history, such as Michael Collins and Daniel O'Connell can be found here, serving as reminders of their lasting impact on the nation. The cemetery also houses the award-winning Glasnevin Museum where visitors can delve deeper into Ireland's past through interactive exhibits and informative displays.
With its serene ambiance and historical significance, the Glasnevin Cemetery offers a reflective and thought-provoking experience that honors the memory of those who have gone before us.
The National Botanic Gardens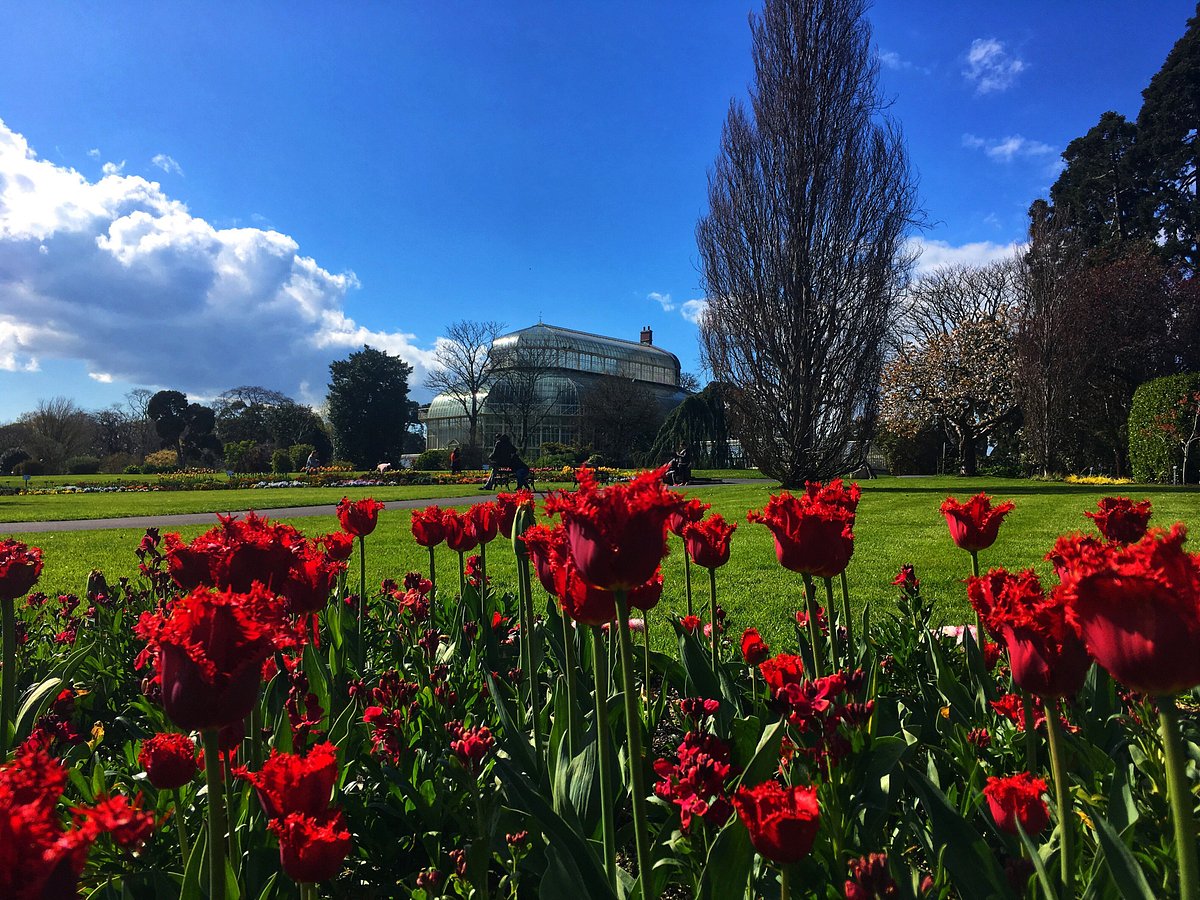 The National Botanic Gardens (Irish: Garraithe Náisiúnta na Lus) is a botanical garden, located in Glasnevin, 5 km north-west of Dublin city centre, Ireland.The 19.5 hectares are situated between Glasnevin Cemetery and the River Tolka where it forms part of the river's floodplain.
The gardens were founded in 1795 by the Dublin Society (later the Royal Dublin Society) and are today in State ownership through the Office of Public Works. They hold approximately 20,000 living plants and many millions of dried plant specimens.
There are several architecturally notable greenhouses. Today the Glasnevin site is the headquarters of the National Botanic Gardens of Ireland which has a satellite garden and arboretum at Kilmacurragh in County Wicklow.
More information: https://botanicgardens.ie/
Croke Park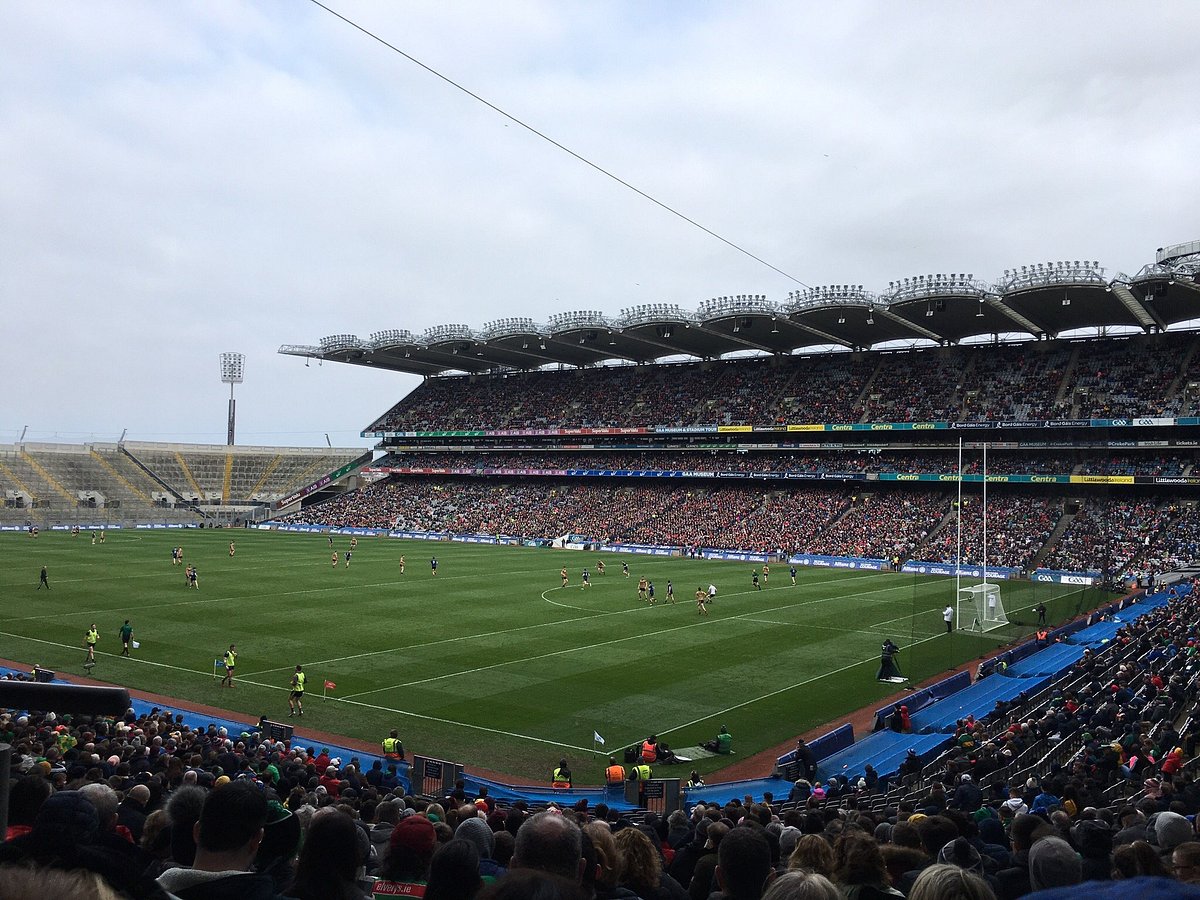 Croke Park (Irish: Páirc an Chrócaigh) is a Gaelic games stadium located in Dublin, Ireland. Named after Archbishop Thomas Croke, it is sometimes called Croker by GAA fans and locals. It serves as both the principal stadium and headquarters of the Gaelic Athletic Association (GAA).
Since 1891 the site has been used by the GAA to host Gaelic sports, including the annual All-Ireland in Gaelic football and hurling. Croke Park Stadium from the grass up on a sunny day.
More information: https://crokepark.ie/
James Joyce Centre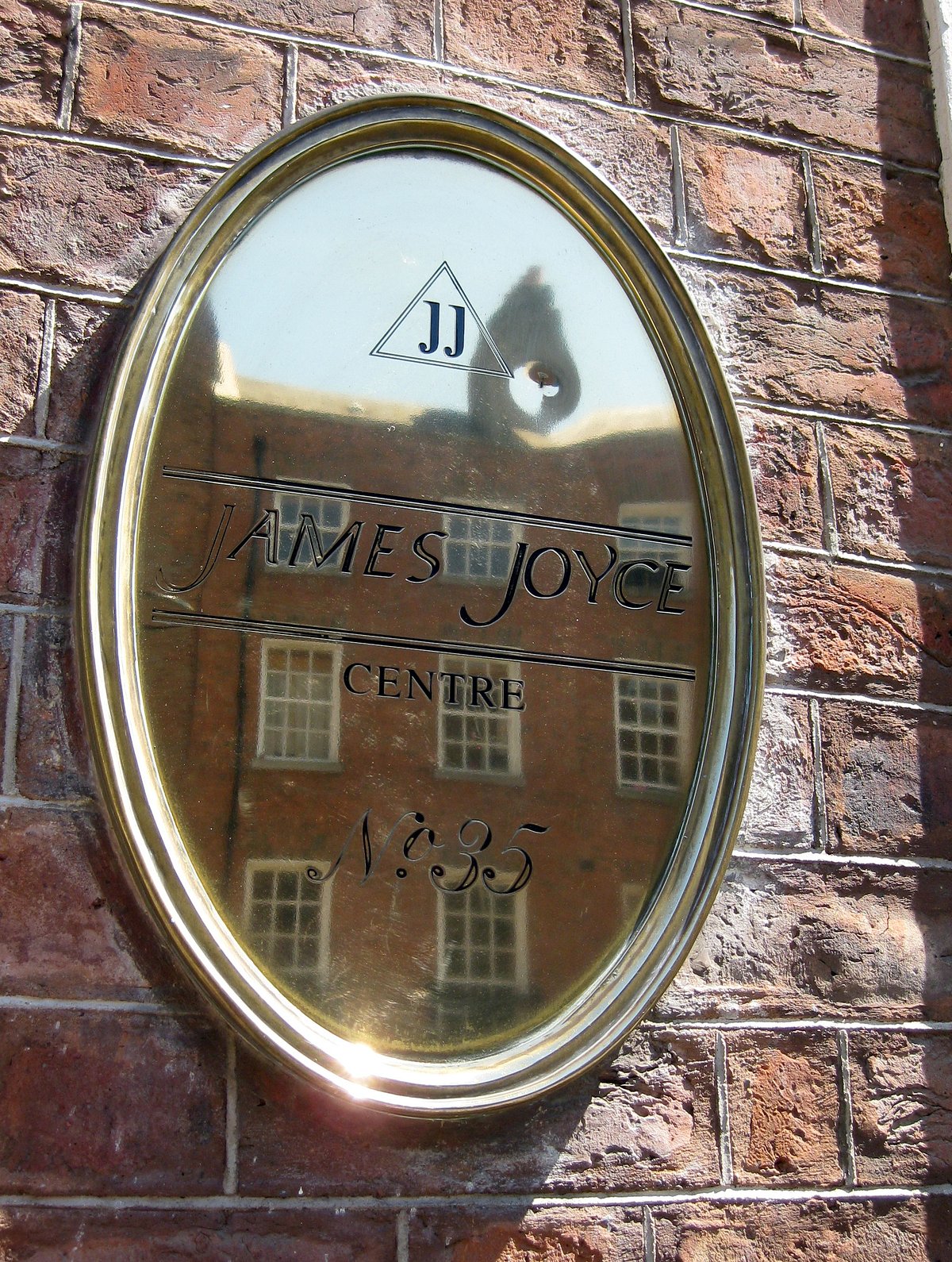 The James Joyce Centre is a museum in Dublin, Ireland, dedicated to promoting an understanding of the life and works of James Joyce.
The Centre is situated in a restored 18th-century Georgian townhouse at 35 North Great George's Street, Dublin, dating from a time when north inner city Dublin was at the height of its grandeur.
More information: https://jamesjoyce.ie/
Mountjoy square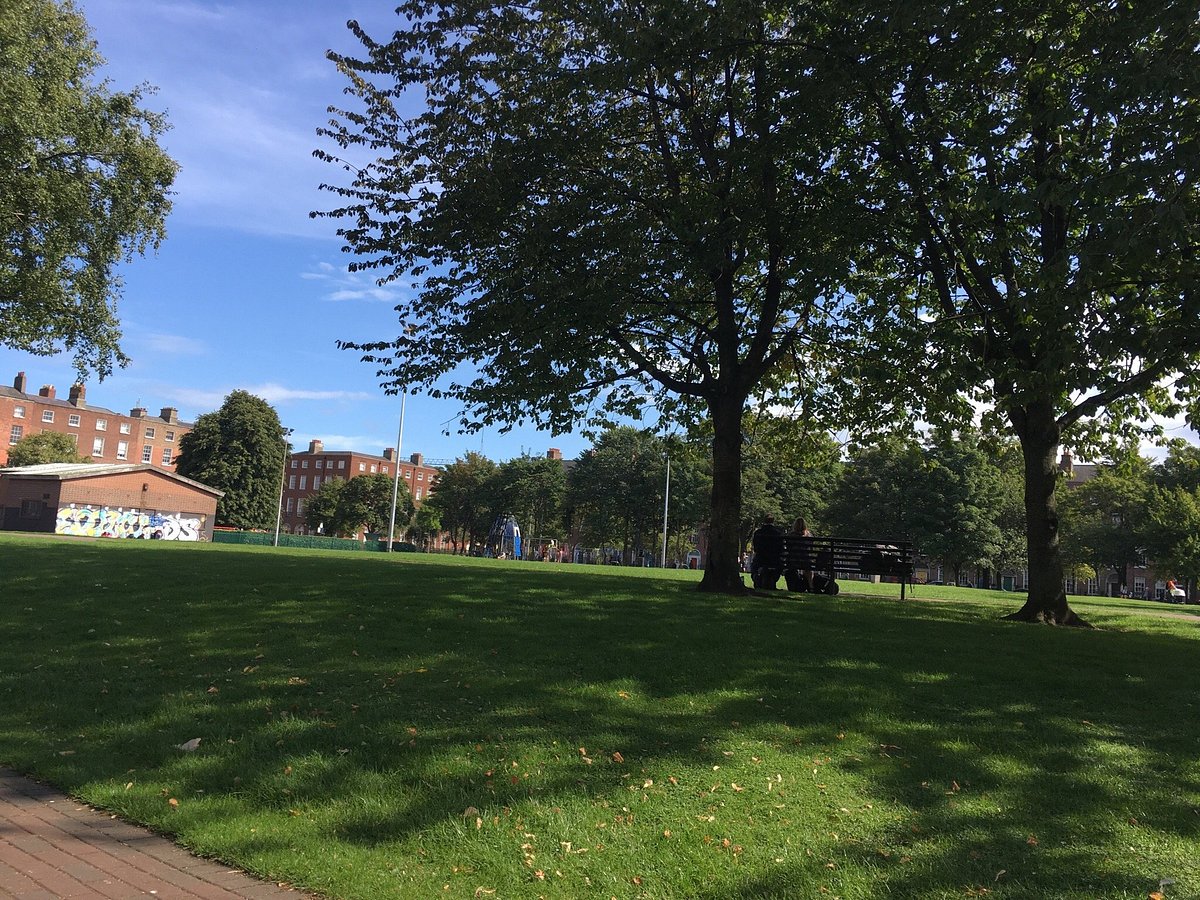 Mountjoy Square (Irish: Cearnóg Mhuinseo) is a Georgian garden square in Dublin, Ireland, on the north side of the city just under a kilometre from the River Liffey.
One of five Georgian squares in Dublin, it was planned and developed in the late 18th century by Luke Gardiner, 1st Viscount Mountjoy. It was surrounded on all sides by terraced, red-brick Georgian houses. Construction began in the early 1790s and the work was completed in 1818.
More information on Mountjoy Square in Dublin: https://www.dublincity.ie/residential/parks/dublin-city-parks/visit-park/mountjoy-square
Dublin Neigbourhoods
Temple Bar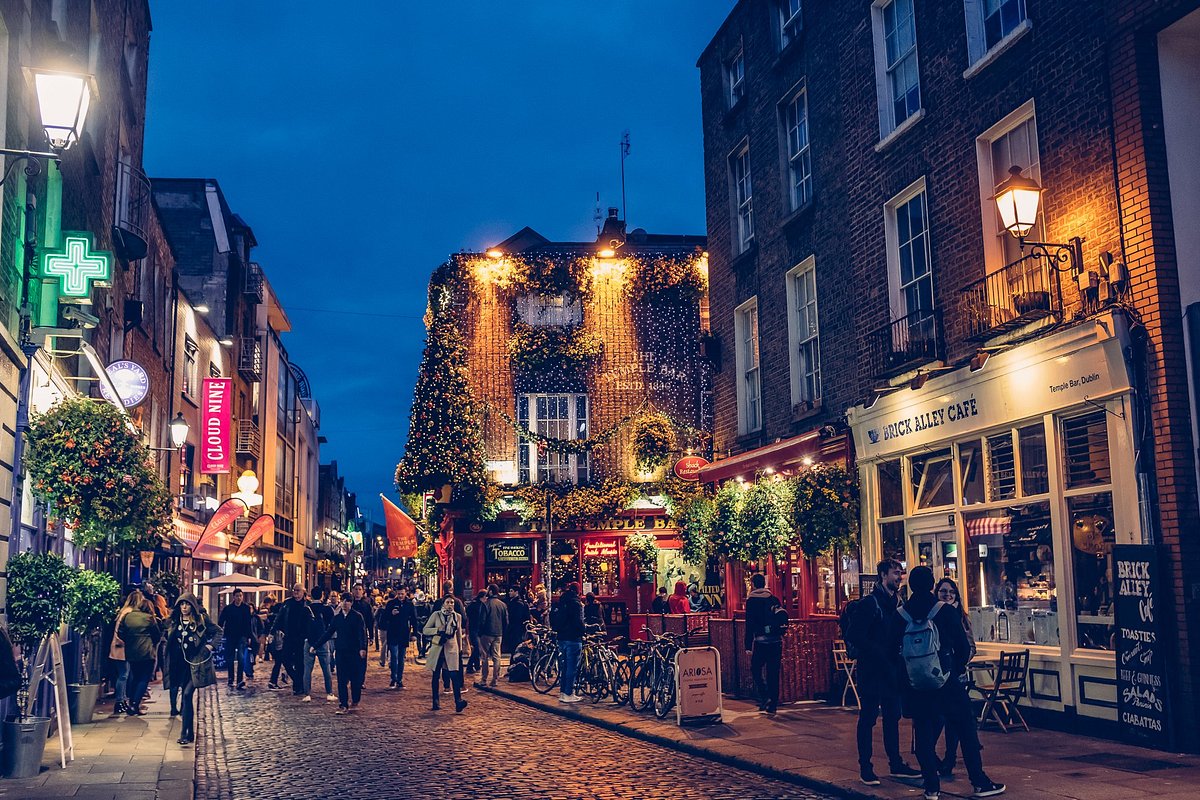 Temple Bar is the heart of the action in Dublin, located in the city center on the south bank of the Liffey River. The cobbled streets are lined with historic buildings, filled with boutique shops, cafés, pubs, hotels, and hostels. If you're looking for a place to catch live music, this area is it.
Throughout the week, many of the pubs invite local musicians to rile up the crowds as they enjoy a pint or two. A favorite spot amongst visitors is the neighborhood's namesake Temple Bar pub, which dates back nearly 200 years.
St. Stephen's Green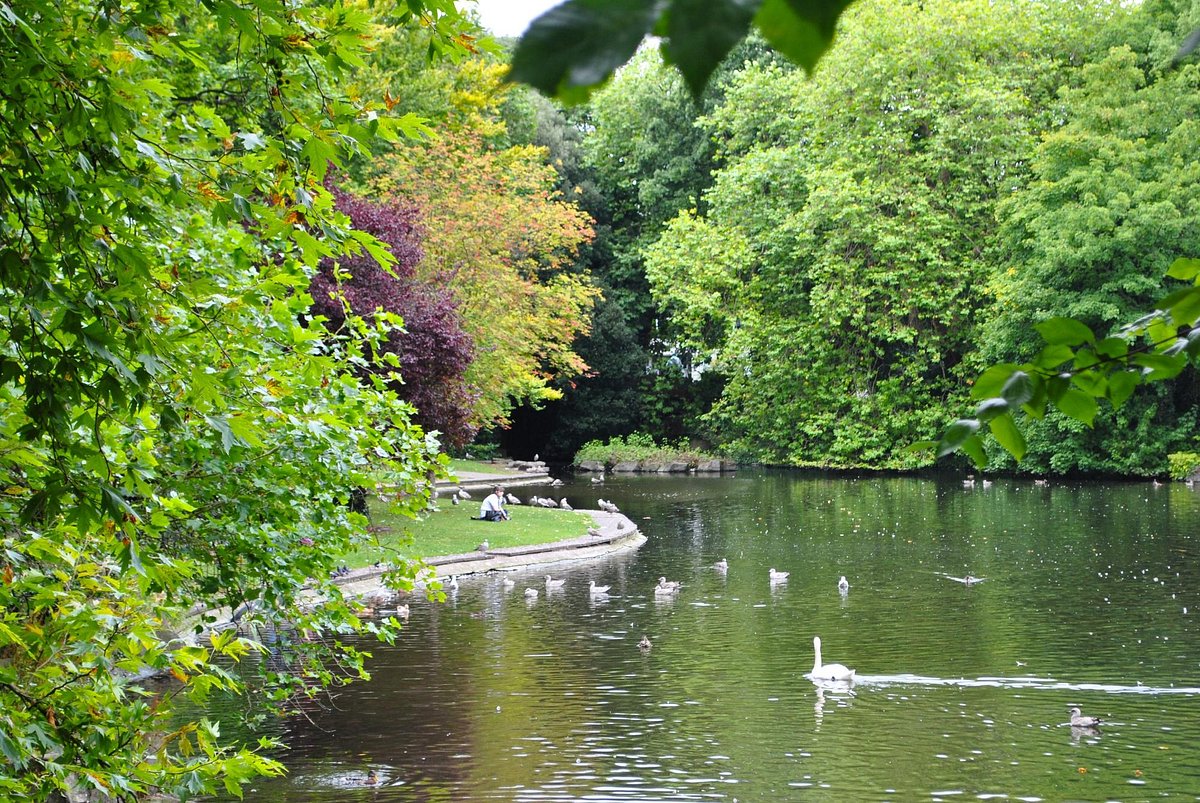 Centered around its namesake park, St. Stephen's Green is one of the priciest areas in the city and is characterized by stately Georgian architecture. Just a short stroll away, you'll find some of Dublin's best shopping on Grafton Street with dozens of luxury retailers.
On the south side of the park, you'll find the Museum of Literature Ireland (MoLI), which highlights the country's vast storytelling history. Christchurch: Christchurch is centrally located to a number of Dublin's best attractions, including the 1,000-year-old Christchurch Cathedral, Trinity College, Dublin Castle, and the Guinness Storehouse.
In addition, travelers will find plenty of great restaurants and pubs on the surrounding streets. Rathmines: Situated just outside of the city center of Dublin, Rathmines is an upscale neighborhood with great bars, boutique shops, and eateries. The nearby Ranelagh neighborhood has a similar feel, and both can be easily reached by taxi.
Portobello
Portobello is a city-suburb located just south of St. Patrick's Cathedral is known for its beautiful scenery and quaint Georgian homes.
The area is filled with great shops, restaurants, and boutiques, making it the perfect stop for souvenir shopping. Portobello Road runs along the canal and is a great place to take a leisurely stroll after a long day of exploring.
Useful Links and Websites
If you want more information on tourism on the island of Ireland, click on the links below.
Tourist Boards
Tourism websites
Love to Visit Ireland www.lovetovisitireland.com
Tourism Ireland – Official website for tourism in Ireland: www.ireland.com
Discover Ireland – Official website of Fáilte Ireland, the National Tourism Development Authority: www.discoverireland.ie
Visit Dublin – Official tourism website for Dublin: www.visitdublin.com
Wild Atlantic Way – Official website for the Wild Atlantic Way, a scenic coastal route: www.wildatlanticway.com
Causeway Coastal Route – Official website for the Causeway Coastal Route in Northern Ireland: www.causewaycoastalroute.com
Ring of Kerry – Official website for the Ring of Kerry scenic drive: www.ringofkerrytourism.com
Ancient East – Official website for Ireland's Ancient East region: www.irelandsancienteast.com
Ireland's Hidden Heartlands – Official website for the Hidden Heartlands region: www.irelandshiddenheartlands.discoverireland.ie
Boyne Valley – Official website for the Boyne Valley region: www.discoverboynevalley.ie
Visit Belfast – Official tourism website for Belfast: www.visitbelfast.com
Galway Tourism – Official tourism website for Galway: www.galwaytourism.ie
Cork Guide – Official tourism website for Cork: www.cork-guide.ie
Kilkenny Tourism – Official tourism website for Kilkenny: www.visitkilkenny.ie
Dingle Peninsula – Official website for the Dingle Peninsula: www.dingle-peninsula.ie
Visit Waterford – Official tourism website for Waterford: www.visitwaterford.com
Tourist industry representative bodies
Irish Tourist Industry
Confederation Irish Hotels Federation Northern
Ireland Hotel Federation
Transport (not flights)
Here is a list of 20 important transport websites in Ireland that cover various modes of transportation other than flights:
These websites offer valuable information for planning and navigating various transportation options in Ireland. Remember to check the individual websites for schedules, fares, and any updates before making your travel arrangements.
For more information on Ireland and your Irish trip visit www.lovetovisitireland.com
---
The Ultimate Ireland Travel Guide
The information provided by Love to Visit LLC ('we', 'us', or 'our') on https://lovetovisitireland.com (the 'Site') is for general informational purposes only. All information on the Site is provided in good faith, however we make no representation or warranty of any kind, express or implied, regarding the accuracy, adequacy, validity, reliability, availability, or completeness of any information on the Site. UNDER NO CIRCUMSTANCE SHALL WE HAVE ANY LIABILITY TO YOU FOR ANY LOSS OR DAMAGE OF ANY KIND INCURRED AS A RESULT OF THE USE OF THE SITE OR RELIANCE ON ANY INFORMATION PROVIDED ON THE SITE. YOUR USE OF THE SITE AND YOUR RELIANCE ON ANY INFORMATION ON THE SITE IS SOLELY AT YOUR OWN RISK.
The Site
may contain (or you may be sent through the Site) links
to other websites or content belonging to or originating from third parties or links to websites and features in banners or other advertising. Such external links are not investigated, monitored, or checked for accuracy, adequacy, validity, reliability, availability, or completeness by us. WE DO NOT WARRANT, ENDORSE, GUARANTEE, OR ASSUME RESPONSIBILITY FOR THE ACCURACY OR RELIABILITY OF ANY INFORMATION OFFERED BY THIRD-PARTY WEBSITES LINKED THROUGH THE SITE OR ANY WEBSITE OR FEATURE LINKED IN ANY BANNER OR OTHER ADVERTISING. WE WILL NOT BE A PARTY TO OR IN ANY WAY BE RESPONSIBLE FOR MONITORING ANY TRANSACTION BETWEEN YOU AND THIRD-PARTY PROVIDERS OF PRODUCTS OR SERVICES.
AFFILIATES DISCLAIMER
The Site may contain links to affiliate websites, and we receive an affiliate commission for any purchases made by you on the affiliate website using such links. Our affiliates include the following:
We are a participant in the Amazon Services LLC Associates Program, an affiliate advertising program designed to provide a means for us to earn advertising fees by linking to Amazon.com and affiliated websites.
Sign Up Below And Get A Free Digital Copy
Of The Ultimate Ireland Travel Guide